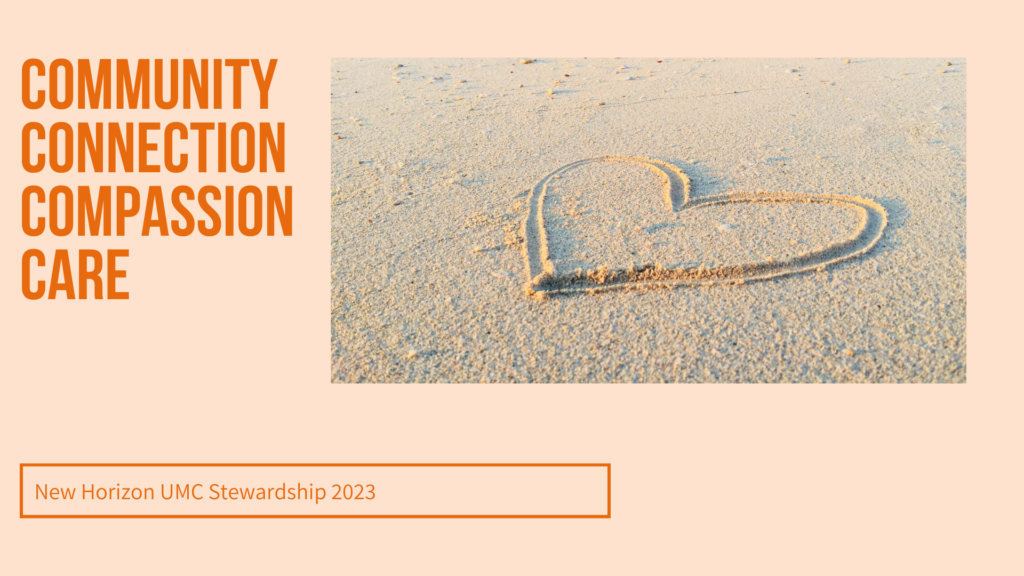 New Horizon Friends,
Thank you for your faithfulness as we have navigated a prolonged time of uncertainty the past several years. We are now discovering our new "normal" at this season when we explore the meanings of stewardship. This involves embarking on a journey of generosity and growth. The stewardship theme of "This is who we are" is a process of rediscovering the community New Horizon is called to serve and minister to. Please prayerfully enter with me as a vital part of our community to discover God's unfolding vision at New Horizon.
We welcome your thoughts, visions, and hopes for New Horizon. Consider what roles we play and what spiritual gifts we have. Consider where does God want us to go? Join us on this journey of discernment of God's unfolding Vision at New Horizon.
This past Sunday we enjoyed the Ministry Exhibition, welcomed many new signups, and invited you to continue to sign up and start new ministries that God has laid upon your hearts.
We have attached our latest financials and ask you to peruse the content. Our Finance Team monitors the finances regularly, we do not operate from a contingency fund, which is part of what we hope to build towards in the future, therefore our cash flow is a crucial factor in our daily Stewardship. We expect to finalize our Budget in the weeks after the Stewardship Pledge is received and will share this with the Congregation as we discern together the Ministry of New Horizon United Methodist Church. The faithful giving from this Congregation is a testimony of deep faith and we thank God for your Stewardship.
Please join us as you are able as we will tie the themes together on Consecration Sunday, October 30th with commitment and a time of celebration and a light lunch provided. We have provided the Pledge form for you to begin praying over as we prepare for our Commitment Sunday Service.
With Love,
Pastor Jacqui
Please take a moment to fill out our Pledge Form.